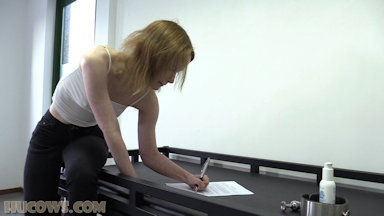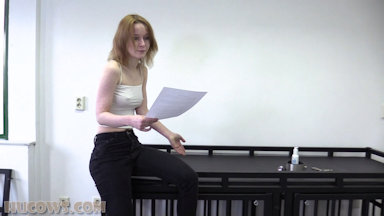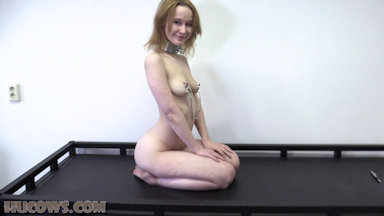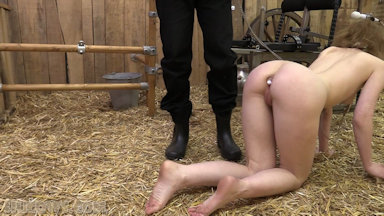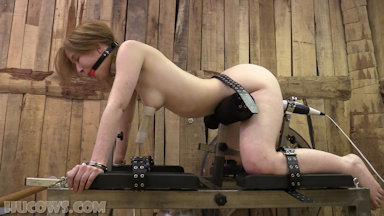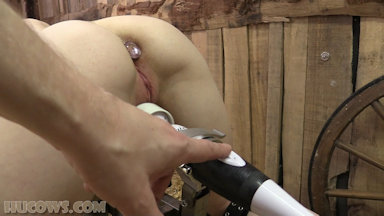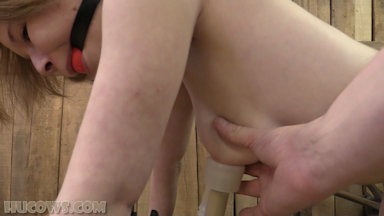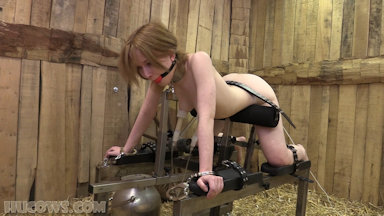 Young Sweetie Plum emailed us if she could be a HuCow. Of course! Anyone can come to the barn and try if they want to belong to the herd. But when she arrived, Sweetie wasn't so sure anymore. She nervously touched the big collar and the nipple clamps that were waiting for her, next to her contract. And there was a pink buttplug and some lube too! We could see her doubt, but after a brief moment she actually signed the contract! There was no way back now. Sweetie stripped naked and waited for things to come…
What a cute body she has! First step was to insert the jewel butt plug, which she did without being asked. It seems she understood what she came for. With the collar and nipple clamps added, she presented herself for inspection. Sweetie looked so proud!
Soon, she was led into the barn, crawling on all fours, leashed by the farmer. After some more inspection, she was instructed to climb onto the milking frame, where she got strapped in tight. Such a small body with cute udders! Sweetie was still smiling, excited at the thought of getting milked and vibrated. The magic wand was turned on, which she REALLY enjoyed. A ballgag was added, and then the milking machine came in!! Sweetie moaned hard when the full sucion power was applied to her nipples. More painful at first than she had anticipated, but the magic wand helped her to get over the initial shock. With a nice long hard session, the farmer got her used to the machine. Tiny Sweety was exhausted after her milking. It was definitely what she had been looking for, but will she join the herd, or was it just a challenge for her? We will see if she comes back!
Members downloads: