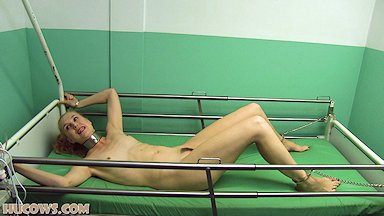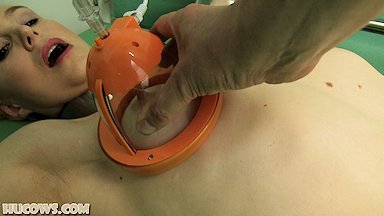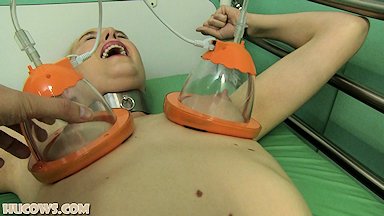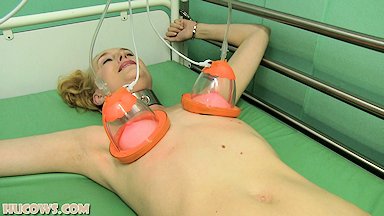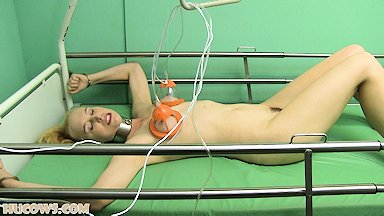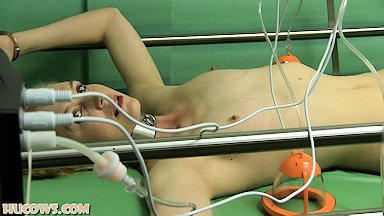 Ariel Anderssen can handle our most extreme milking sessions. Check out her training on all fours, and her harsh training with a funnel gag, the nipple stretching, and getting milked right after clamps are removed. She has signed on for more regular sessions here, but her udders are (still) quite small.
We will have to increase her size a bit, and the best way to do this is the electronic breast training machine. It is a very extreme way of breast enhancement training, but in Ariel's case we are not too worried. She is very tough! We can easily double her breast size with this machine, but she will need many more sessions to loosen up that tissue and get more permanent volume. It's a rather painful procedure with high power vacuum so we have to cuff her to the bed with all four limbs.
Ariel protests a lot, as she doesn't really understand what is happening, but even if we explained it, she wouldn't agree it is for her own benefit. So we just go on with the procedure, using different programs and even infrared therapy to make her tissue more supple and ready for growth. Is it harsh? Yes, but it's Ariel Anderssen. We would like to keep her in our herd, so she needs to hang in there. If you are worried about her after seeing this footage, don't be! She is absolutely fine and already preparing for her next session!
Members downloads: